The Mazda Miata is in a League of Its Own
Car lovers can tell you first hand that the Mazda MX-5 Miata is in a league of its own. Additionally, the New England Motor Press Association awarded the Miata with excellent new car and pre-owned car awards. Enthusiasts and critics alike agree that the Mazda Miata is in a class by itself.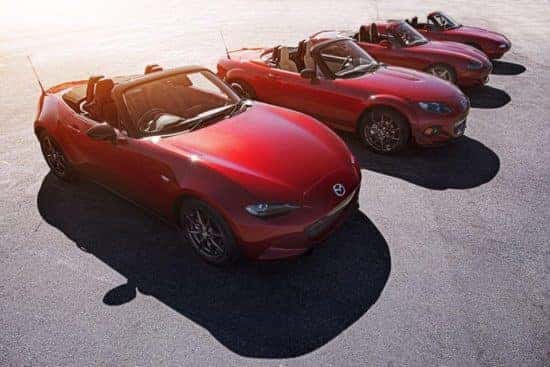 First off, the Mazda MX-5 Miata is affordable. Pre-owned first-generation Miata vehicles are available for as little as $2,500, while brand new and fully loaded Miata cars cost under $40,000. For a stylish and sporty vehicle, this price tag is excellent.
Next, the Mazda Miata is fun. The vehicle comes standard with a manual transmission, so drivers can feel the excitement first hand. If you prefer automatic transmissions, the Miata is available with this upgrade as well. Additionally, the Mazda Miata has rear wheel drive, a near perfect 50/50 weight distribution, and agile body size that is perfect for adventurous driving.
Finally, the Mazda Miata is reliable. Everyone wants a car they can trust, and this vehicle is exactly that. Consumer Reports called the Miata one of the 10 Most Reliable Cars of 2018. Because the Miata combines sporty driving with functionality, this Mazda car is aggressive and exciting, while still being practical and accommodating.
To enjoy everything the Mazda MX-5 Miata has to offer, check out Island Mazda. Our new and used Mazda dealership is home to the Miata, as well as several other Mazda vehicles you don't want to miss. To test drive the Miata, stop by 1580 Hylan Boulevard in Staten Island. You can also reach us by phone at 855-587-0555. We hope to hear from you soon and can't wait to show off the Mazda Miata to you!
Staten Island Mazda MX-5 Miata