Lease the 2021 Mazda CX-3 Today
First things first, the 2021 Mazda CX-3 is a crossover and the smallest SUV in Mazda's range of SUVs and it comes as a sole trim. Chassis-wise, it is styled in a beautiful way, a true beauty to behold and love as far as Sports Utility Vehicles are concerned. The bright side of this crossover is not just its beautiful exterior; there are other things to look out for which we will briefly explore below.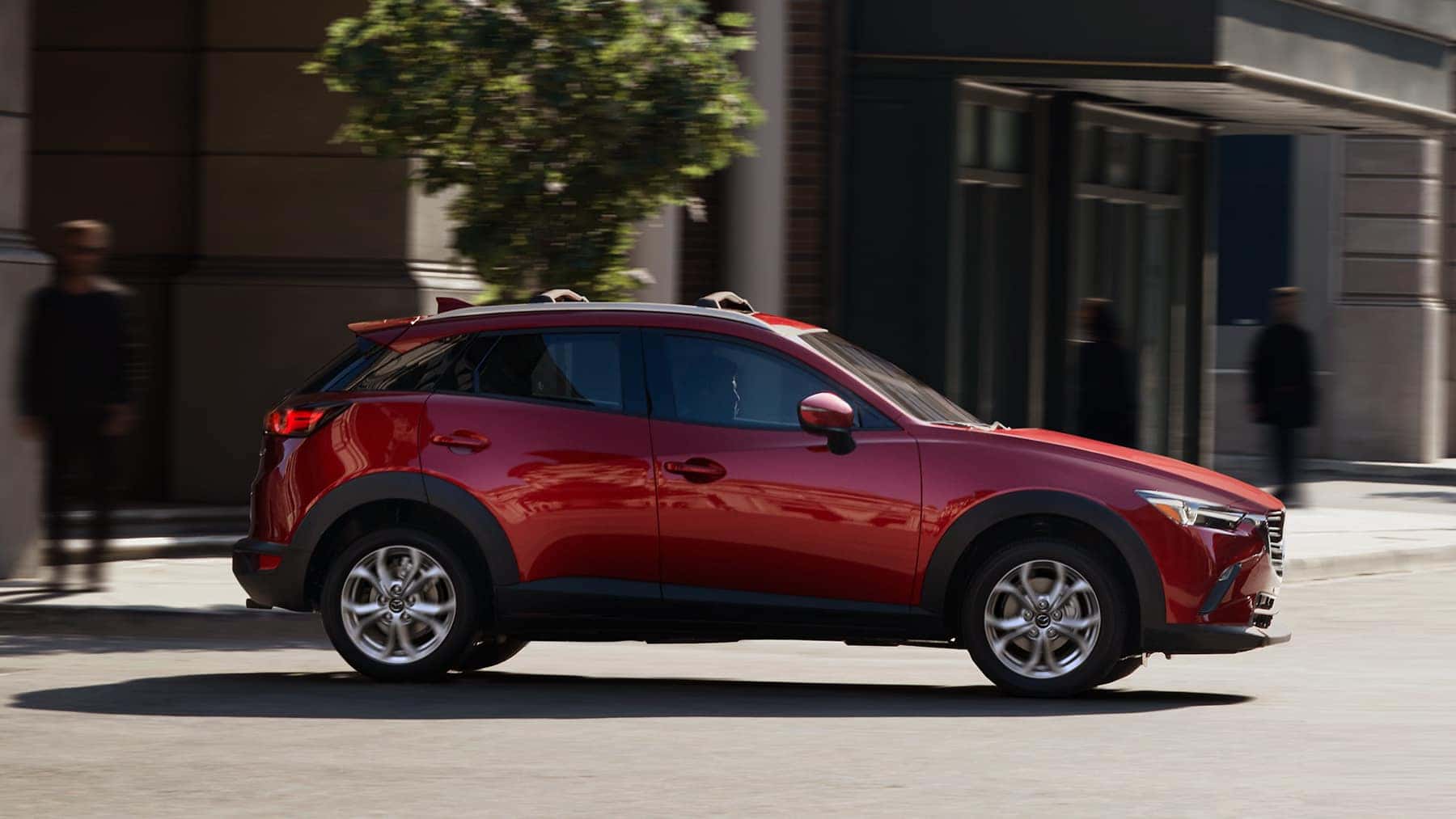 Drivetrain and Fuel Economy
Two drivetrains are available in this crossover, an option between Front Wheel Drive (FWD) and All-Wheel Drive (AWD). 
A 2L 4-cylinder engine is found under the hood for both options and this engine provides a horsepower strength of 148 and pulls a torque of 146lb-ft. 
In the fuel department, both drivetrains deliver different numbers by the miles per gallon yardstick. While the FWD delivers 29/34 mpg for city/highway, the AWD delivers 27/32 mpg for city/highway, therefore, the former is more fuel-efficient.
Cabin Details
A blend of high chrome, textured plastics and soft leather makes up for the cabin design in the CX-3. The cargo space for passengers is significant but the passengers in the driver's row get more space than those in the rear row.
Buttons are sparse everywhere in the cabin especially on the dashboard, presenting a picture of minimalism and/or simplicity.
Entertainment and Information
The infotainment system in this beauty sits as a 7" screen atop the dashboard, making for less visual distraction while swapping music or navigating your route on the map when driving. And there is the HUD (Heads Up Display) which serves you in the way the name implies.
Safety
Safety is ensured by the availability of certain features like the Advanced Smart City Brake Support and Rear Collision Warning feature, the Blind Spot Monitoring system, Automated Emergency Braking system, Back-Up Camera, Electronic Stability Control (ESC), Lane-Departure Warning system, Automatic Climate Control, et al.
Cargo Space
Just as sparse as the rear passenger space in the cabin is, the cargo space comes close to this status as well. It can hold 12 carry-on suitcases with the rear seats folded and 3 carry-on suitcases with the rear seats in their place, making this SUV best suited for you if you do not usually have lots of cargoes to deal with.
Do you like the Mazda CX-3? You can physically lease it from our dealership in Staten Island – at 1580 Hylan Blvd, Staten Island, NY 10305. Or call us at 855.918.3994.
Contact Us