Check Out the Technology Inside the Mazda CX-9
New cars are the most technologically advanced vehicles ever to hit the streets. Besides being the most reliable, most fuel-efficient, and safest vehicles ever made, they are also the smartest, with computer-controlled functions, including steering, braking, and parking. The 2019 Mazda CX-9 is no exception to this trend, in fact, it's one of the most advanced.
Engine and Drive Train Technology
The Mazda CX-9's technology starts with the engine and drive train. All models have a four-cylinder engine, rated at 227 horsepower with regular unleaded gasoline. A six-speed automatic transmission is paired with the engine, and all models are front-wheel drive, with all-wheel drive optional.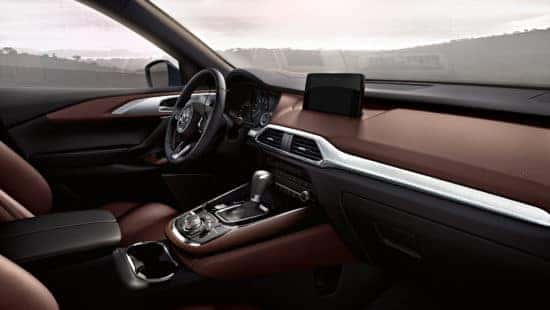 Electronic Technology
Available technology includes automatic headlights, automatic windshield wipers, keyless ignition, universal garage door opener, an 8-inch infotainment display screen, Apple CarPlay and Android Auto, and USB ports. The Grand Touring trim level includes adaptive headlights, front and rear parking sensors, heads-up display, digital gauges, middle seat retractable sunshades, a navigation system, and satellite radio.
Integrative Technology
It's not just what technology the Mazda CX-9 has, it's also how it's all put together. First, the touchscreen allows control of Apple and Android phones; accessing features like GPS navigation, music libraries, and incoming and outgoing calls. You can also use voice to text technology as part of the smartphone integration with Mazda's electronics.
Safety Technology
The Mazda CX-9 has ample safety technology, including lane-keep assist, lane-departure warning, radar cruise control, and smart brake support, including smart city brake support, which can detect pedestrians. There is also the SiriusXM with available Travel Link Services, which has live traffic updates.
If you're still curious about the Mazda CX-9 and would like more information, or you would like to arrange a test drive, contact us at Island Mazda at 1580 Hylan Boulevard in Staten Island or call us at 855-587-0555. We'll be happy to help.