2017 Mazda MX-5 Miata RF near Woodbridge
Drive fast and look stylish in the new 2017 Mazda MX-5 Miata RF at Island Mazda near Woodbridge, NJ. There's more than one road to driving thrills. The MX-5 RF takes the lightweight, rear-wheel-drive route. And when a driver is behind the wheel, near-perfect 50/50 weight balance. The RF is also highly rigid yet lightweight. This is all thanks to its SKYACTIV®-Chassis that plays a key role in the MX-5 RF's nimbleness and stability. Together, the RF's balance and rigid chassis create an incredibly responsive drive and an undeniable connection between man and machine. One major perk about the MX-5 RF is its six-speed manual transmission. It's small and light, yet retains the short-throw precision drivers love. So whether you're cruising down a curvy road or dashing down a straightaway, the MX-5 RF's transmission will ensure an effortless and enjoyable drive.
When Mazda set out to design the first-ever Mazda MX-5 Miata RF, they knew the cabin had to be just as beautiful as the exterior. It also had to evoke a sense of excitement for the road ahead. So, they made sure every detail was purposefully placed to make driving better. From the instrument panel to the gear selector, everything was laid out with intention and care to make your every move more intuitive. Why? To let you focus on what matters most: driving. The KODO: "Soul of Motion" design language is not just a curve in the side panels or the shape of a headlight. You'll find it captured in the very essence of the MX-5 RF. Whether the roof is up or down, its muscular stance conveys an aggressive design while maintaining a fluid symmetry.
Mazda's single biggest goal is to build cars that bring people joy. Cars that make you feel better when you step out than before you stepped in. We believe people should feel rejuvenated and exhilarated every time they take the wheel. Not just on curvy roads, or barreling down a straightaway, but even commuting or running errands. Every last detail is centered around bringing a smile to the driver.
Contact
Island Mazda today to test drive the 2017 Mazda MX-5 Miata RF around the Woodbridge, NJ area.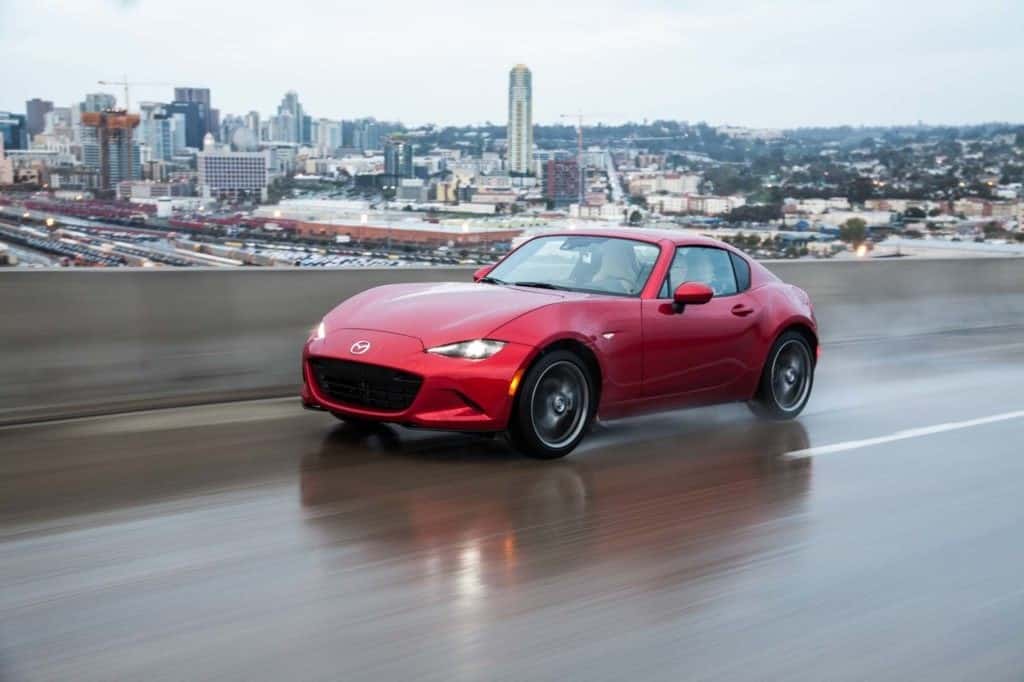 Mazda Lease near New York City | Car Finance near Long Island City