2017 Mazda3 Vs. 2017 Volkswagen Golf
Island Mazda near Staten Island is honored to be able to compare the 2017 Mazda3 and VW Golf. You'll immediately recognize the VW Golf, whose shape remains true to its upright origins as the 1974 VW Rabbit. It's a handsome, rectilinear hatchback, slightly larger than previous generations and better integrated than the model it succeeded. The Mazda3 is far swoopier, with a long hood and a "cab-back" style that truncates the cabin and makes its proportions distinct from any other small car.
The Mazda3 comes with either a 2.0-liter version of its engine rated t 155 horsepower or a more powerful 2.5-liter version that puts out 184 hp. Each is available with a 6-speed manual gearbox or a 6-speed automatic transmission. The entire structure of the Mazda3 has been designed around these engines, with more length from the front wheels to the firewall housing a complex exhaust system that vastly improves efficiency. EPA combined ratings are 29 to 33 mpg, depending on powertrain, both laudable for a sporty compact hatchback and likely to be confirmed by real-world use. The base engine in the Golf TSI and Golf SportWagen is a 1.8-liter turbocharged, direct-injection inline-4 rated at 170 horsepower and 199 pound-feet of torque that doesn't delay its power delivery.
Stepping up to the Golf GTI nets a 40 hp (or 50 hp) boost from a 2.0-liter turbo-4 that makes 258 lb-ft of torque. It's hard to catch this engine flat-footed, and both the 6-speed manual or 6-speed dual-clutch gearboxes are fine choices. Acceleration to 60 mph takes around six seconds—very quick considering the practicality here—while a "progressive" steering system and a suspension that's tuned for performance make the GTI more satisfying to drive fast than the Golf.
On the safety front, both cars are about on par with one another; top marks from the NHTSA and a Top Safety Pick+ rating from the IIHS. Both models come standard with a high degree of safety tech and both offer features like automatic emergency braking on almost every trim level.
Schedule a test drive today at Island Mazda near Staten Island, NY to compare the 2017 Mazda3 and 2017 VW Golf for yourself.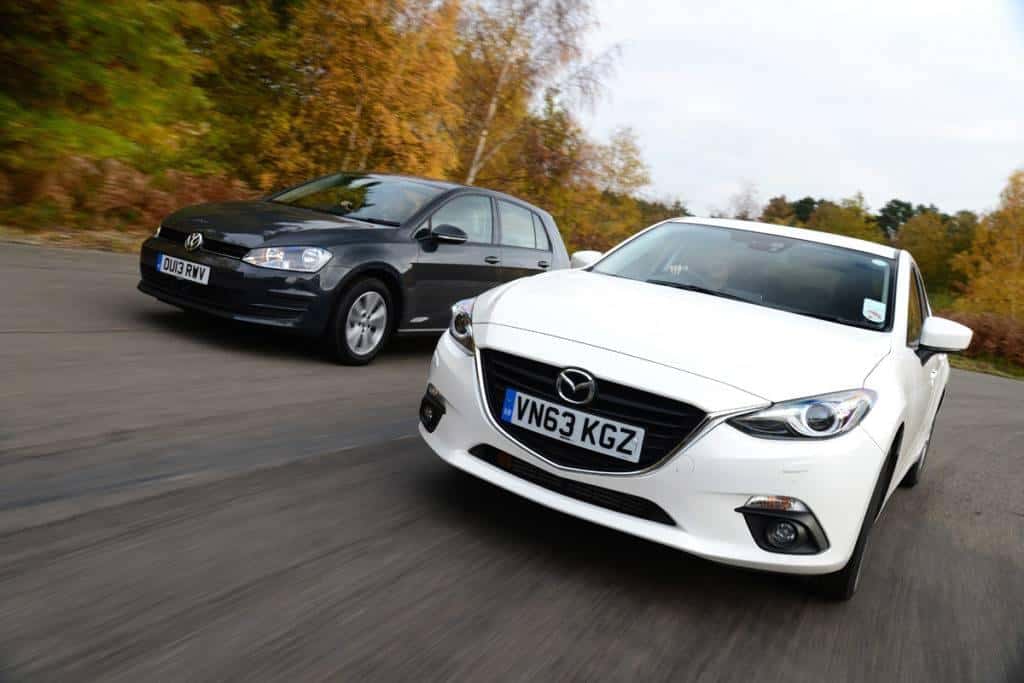 Mazda Dealer near Woodbridge | Car Lease near Newark